Total Pest Control In Tupelo, Mississippi
Tupelo, MS, is a small city filled with history and culture. Located in the center of the Mississippi Hills, our town is known as the birthplace of Elvis, so it makes sense why there are visitors here all year long. Unfortunately, not all of those visitors are here for a quick visit. Local pest populations enter our homes and businesses in search of food, water, and shelter. Once they find what they're looking for, they're here to stay. That means all Tupelo property owners are vulnerable to pest infestations. Luckily, we're here to protect you.
McCary Pest Control is a local, family-owned and operated business providing reliable residential and commercial pest control solutions since 1972. We are proud to service homes and businesses throughout Lee County and the surrounding areas, bringing nearly 50 years of industry experience to the table. All of our pest technicians have full training and certification, and offer comprehensive pest protection that you can count on all year long. Call us today for your free estimate and inspection.
Home Pest Control In Tupelo, MS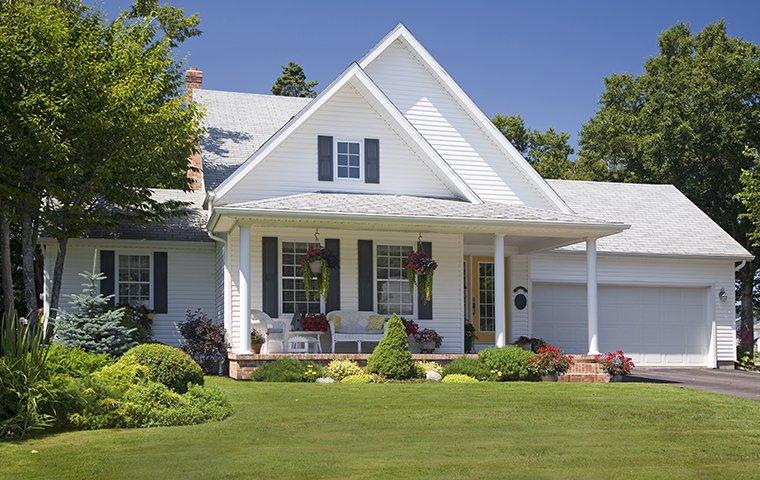 The most effective way to protect your Tupelo home from household infestations is to secure help from the McCary Pest Control team. Our residential pest control process is thorough and completely customized to meet your needs, schedule, and budget. The process includes the following:
Full visual inspection: looking for pest activity, damage, conducive conditions, checking the interior, exterior, foundation, faulty gutters, and drainage issues
Initial treatment: Use of eco-friendly products to treat interior and exterior, including doors, windows, plumbing, pipes, and foundation perimeter treatment
Follow up: Exterior re-treatments at your convenience to maintain barrier protection
In addition to our general pest control solutions, we provide specialty services for ant control, cockroach control, and mosquito control. Get in touch with us today to discuss your residential pest control needs, and we'll set up your complimentary inspection right away.
Commercial Pest Control In Tupelo, MS
Here in Tupelo, there are a variety of local businesses. Unfortunately, each of them is filled with various pest attractants, meaning a commercial infestation isn't far away. The good thing is you can secure professional pest protection from the experienced technicians at McCary Pest Control. We deal with various common areas intruders, ranging from general pests and rodents to cockroaches, ants, and mosquitoes. Whatever type of pest situation you're in, we will figure it out together.
Our commercial pest solutions provide full pest coverage to a variety of local businesses, some of which include bars, restaurants, food production facilities, industrial warehouses, manufacturing, nursing homes, and schools. From the initial inspection to our customized treatments and ongoing follow-up services, you know that when you go with McCary, you go with the best. Reach out to us for a complimentary estimate.
The Secret To Controlling Mosquitoes In Tupelo
Mosquito activity here in Mississippi is a common issue that property owners must face. These vector pests pose a real threat to our health, which is why it's important to be careful. These parasites can transmit a long list of diseases through their bites.
If you're looking for the secret to controlling mosquitoes on your Tupelo property, here are some effective preventative measures to help you reduce your exposure to them:
Apply insect repellent when outdoors.
Eliminate any sources of standing water.
Fix any damaged or ripped screens.
Keep your landscaping well-trimmed.
Maintain gutters and downspouts to divert water away from the house.
Make sure doors are closed as often as possible.
Use window and door screens to prevent entry.
Wear long pants and long sleeves.
Wear pesticide-treated clothing.
The tips listed above are a great place to start in your mosquito control efforts, but none of them are entirely effective all on their own. You and your loved ones deserve the best protection possible. The team at McCary Pest Control is here for all your mosquito control and prevention needs, so contact us today to get started.
Are House Spiders Dangerous To Tupelo Homeowners?
Finding spiders in your home is unnerving. They are arthropods with fangs, which they use to inject venom into their prey. The species that tend to hang out in our homes the most are simply called house spiders. The good thing is they will usually only bite you in self-defense. House spiders are actually more afraid of you than you are of them. When they get inside, they usually inhabit shady, cool areas such as garages, attics, and basements.
If you discover any spiders in your home, you shouldn't worry. Just be sure to reach out to the pest experts right away. Here at McCary Pest Control, we offer trusted spider control and prevention services that you can trust throughout the year. Protect your home and your loved ones, and call us today. House spiders may not be that threatening, but they're certainly not a welcome sight in the house. Reach out for your free estimate.
Request Your Free Inspection
Complete the form below to schedule your no obligation inspection.